6-8 passengers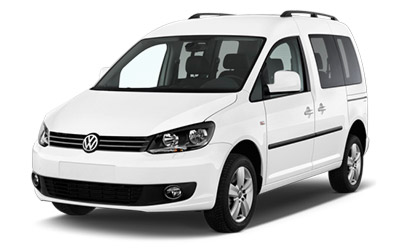 VW Caddy
Cars with drivers:
3 h
110 €
5 h
50 €/ч
10 h
45 €/ч
10 h et plus
40 €/ч
150 km included, add.km - 0.5€/km
| Direction | Price |
| --- | --- |
| Airport CDG – Paris | 80 € |
| Airport Orly – Paris | 80 € |
| Airport BVA – Paris | 150 € |
| Airport CDG – Orly | 95 € |
| Airport – Disneyland | 90 € |
| Paris – Paris | 45 € |
| Paris – Disneyland | 85 € |
| Paris – Parc Asterix | 85 € |
| Paris – France Miniature | 85 € |
| Paris – Versailles | 70 € |
| Paris – Deauville | 350 € |
| Направление | Цена |
| --- | --- |
| Chateau de Versailles | 4h/ 160 € |
| Chateau de Fontainebleau | 5h/ 200 € |
| Chateau de Vaux-le-Vicomte | 5h/ 200 € |
| Giverny | 5h/ 200 € |
| Normandie | 8–10h/400€ |
| Chateaux de la Loire | 10–14h/500€ |
| Mont Saint Michel | 10–14h/650€ |
| Belgique (Bruxelles) | 14h max/550€ |
| Luxembourg | 14h max/550€ |
| Lyon | 600 € |
| Nice | 1050 € |
Transfer - Paris, mini-van – 7 seats
Is there a necessity to transfer a group of people to any place in France? Are you looking for a company that could offer you the best service for medium price? It is time to stop your search! The company with good union of price and quality is next to you. Markiz Group suggests you the comfortable high-classed 7-8 passengers minivan for groups transportation.
Leading experts of the company have provided all needs for our customers. Already today you have a possibility to hire in Paris mini van where the parity of the price and quality of service will pleasantly surprise you. We understand your aspiration to receive a high level of comfort under reasonable prices. For this reason our price policy at the most is democratic.
The transport in Paris on a minivan is the best solution to the problem of transportation of group of people from seven passengers. Whether it be usual transportation hotel or a tourist trip in the city and for its limits, you guarantied to receive weight of positive impressions of the given service.
For many clients mini van – expression of quality and prestige. Today our motor-vehicle pool totals a plenty of these vans in the latest models. They not only will bring convenience and satisfaction in a trip, but also will add the solid status of clients.
Seven seated mini van is the most popular, It is irreplaceable, if it is a question of a meeting of group of people at the airport or at train station, a group tourist trip, transportation of people on a holiday. The spacious salon does not create impression of narrowness and a crush. Each passenger has enough free personal space for the maximal cosines.
All drivers have wide experience of driving and excellent technical training for work on this mark van.
Being guided by the main rule of work of our company: "the Security and comfort – first of all!", - all cars pass careful check before each flight. Your security and our irreproachable quality serve the reason for long-term and fruitful cooperation of our company and clients.
The transport in Paris on a mini van provides all passengers feeling comfort and great mood!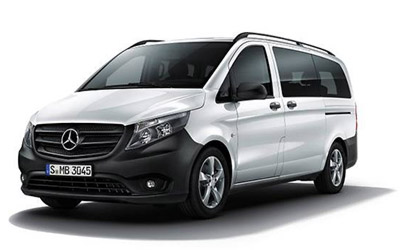 Mercedes Vito
Cars with drivers:
3 h
60 €/ч
5 h
50 €/ч
10 h et plus
45 €/ч
150 km included, add.km - 0.5€/km
| Direction | Price |
| --- | --- |
| Airport CDG – Paris | 95 € |
| Airport Orly – Paris | 95 € |
| Airport BVA – Paris | 170 € |
| Airport CDG – Orly | 110 € |
| Airport – Disneyland | 110 € |
| Paris – Paris | 60 € |
| Paris – Disneyland | 110 € |
| Paris – Parc Asterix | 110 € |
| Paris – France Miniature | 110 € |
| Paris – Versailles | 90 € |
| Paris – Deauville | 390 € |
| Direction | Price |
| --- | --- |
| Chateau de Versailles | 4h/ 180 € |
| Chateau de Fontainebleau | 5h/ 240 € |
| Chateau de Vaux-le-Vicomte | 5h/ 240 € |
| Giverny | 5h/ 280 € |
| Normandie | 8–10h/440€ |
| Chateaux de la Loire | 10–14h/620€ |
| Mont Saint Michel | 10–14h/780€ |
| Belgique (Bruxelles) | 14h max/780€ |
| Luxembourg | 14h max/780€ |
| Lyon | 780 € |
| Nice | 1250 € |
Transfer - Paris, 9 seater minibuses
Such type of cars take in hire in Paris during cooperative, parties or other actions more often, Besides mini van marks: Mercedes Vito, Mercedes Viano and a Volkswagen Caravell perfectly will approach for business of trips of group of business partners. The highest level of convenience of ours cars will be caused only with positive responses.
You do not need to experience in occasion of comfort and convenience of a transfer, all cars in our service are equipped to last measures of comfort and a security.
Among constant clients service of the long-term order of a mini van on nine passenger seats uses the big popularity. This service became irreplaceable for many firms and the enterprises therefore as allows to solve a problem of transportation of the working personnel. Moderated prices and rather high degree of service favorably allocate us among set of competitors.
Reserving the car once practically each client fills up numbers of our constant partners. The harmonious work of all collective and maintenance of the highest standards play a dominant role in our work.
We strictly track high authority of a name of the company therefore we offer cars only high quality. At present we provide a possibility of rent of following marks: Volkswagen Caravelle, Mercedes Vito, Mercedes Viano.
Capacious faultlessly pure salon of cars is equipped by soft armchairs, excellent audio and video systems, a mode climate of the control and over a security resistant by system.
Having made the order of renting a car at our firm, you will dump weight of problems from the shoulders. It will not be necessary to experience in occasion of ignorance of district, to look for a parking lot of transport, to eliminate technical malfunctions, etc. All questions we shall incur.
The order of a transport in Paris invariable remains a mainstream of our activity. Are assured, that rent of cars becomes for you a reliable pillar in business, private affairs and rest.
Not extra will mention, that before flight each car passes detailed technical diagnostics. Each minute matters, therefore we do not leave a possibility of occurrence of unpleasant unexpectedness during a way.
Having made the order, you will make a proper choice in favor of the price and qualities!
Transfer Paris on mini van nine seated –is the best decision for group trips.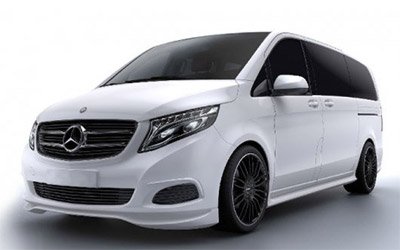 Mercedes Viano
Cars with drivers:
Minimum 2 h
80 €
3-5 h
75 €/ч
6-9 h
60 €/ч
10 h and more
50 €/ч
150 km included, add.km - 0.5€/km
| Direction | Price |
| --- | --- |
| Airport CDG – Paris | 180 € |
| Airport Orly – Paris | 150 € |
| Airport BVA – Paris | - |
| Airport CDG – Orly | - |
| Airport – Disneyland | 190 € |
| Paris – Paris | 120 € |
| Paris – Disneyland | 190 € |
| Paris – Parc Asterix | 180 € |
| Paris – France Miniature | 180 € |
| Paris – Versailles | - |
| Paris – Deauville | - |
| Направление | Цена |
| --- | --- |
| Chateau de Versailles | on request |
| Chateau de Fontainebleau | on request |
| Chateau de Vaux-le-Vicomte | on request |
| Giverny | on request |
| Normandie | on request |
| Chateaux de la Loire | on request |
| Mont Saint Michel | on request |
| Belgique (Bruxelles) | on request |
| Luxembourg | on request |
| Lyon | on request |
| Nice | on request |